There's nothing more certain than death (and taxes)! No other event in our lifetime is both inevitable, and incredibly emotional and stressful for those left behind. But a prepaid funeral is a simple way to alleviate some of the financial and decision-making stress on your family and friends when the time comes.
When it comes to planning ahead for your funeral, you have a few other options, including funeral insurance and funeral bonds. But a prepaid funeral is the most secure way to plan for your funeral – we explain why, in this article.
Prepaying your funeral can be incredibly empowering and will also provide a great deal of peace of mind. If these aren't reasons enough to convince you of the value of a prepaid cremation or funeral, here are a few more benefits you should know about to help you decide to plan ahead by prepaying your funeral.
1. Avoid rising costs
Many of you reading this will have plenty of life left in you yet. The average price of an Australian funeral costs around $7,499 (according to finder.com.au). And if you think funeral prices are expensive now, think about what they might be like in 10, 15, or 20+ years!
You don't want your loved ones to be financially burdened just because you've slipped from the mortal coil. Prepaying your funeral will ensure you are guaranteed the service you want, without looking at a mountain of debt after the funeral is all said and done.
Those you leave behind can spend the days after your death reminiscing about the good times, celebrating your life and grieving effectively, without the heavy burden of wondering how they are going to pay for your funeral. 
2. You can create a memorial to your liking
If you're going to leave the funeral planning to the living after your death, you may not get the funeral you envisaged.
A barbeque in the garden? Scattering ashes at your favourite location? Live music at your local club? Three hundred of your closest people in a hall? Australian funeral trends are changing, so prepaying your funeral gives you the freedom to choose a befitting memorial that truly celebrates your life. Every person is unique. So by prepaying your funeral, you can plan exactly what you want.
We all want to go out in style, and a prepaid funeral is a great way to make that happen, your way.
As part of our Bare Memorial Service, our celebrant team can help arrange and conduct a family-led memorial service, while we take care of the cremation process. To find out more, visit the Bare Memorial webpage or call our prepaid concierge team on 1800 202 901.
3. You can use instalment plans
Many families face hardship after paying for a loved one's funeral. Prepaid funerals offer instalment plans to take the future stress off your family.
You can finance your funeral with instalment amounts that are comfortable for your budget and won't break the bank. Paying your prepaid funeral in instalments makes funeral insurance a completely unnecessary product.
The average price of a Bare prepaid cremation paid off by instalments is around $22 per fortnight for 5 years – with nothing more to pay after that (prices vary depending on your location, as some regions have higher operating costs and government fees).
You can learn more in our article funeral insurance vs prepaid funeral plan: what's right for me?
4. You can take your time with decisions
It's challenging to think rationally during times closer to a loved one's passing. If a funeral hasn't been preplanned, there becomes a whole lot of decisions to be made, and not a lot of time to make them. Rushed decisions usually end up costing more too, with those arranging the funeral often face pressure to include things that the deceased person may not have wanted or needed – like expensive flowers and catering.
5. No health checks or rising premiums
Life insurance can be hard to get – let's say impossible – for someone in their 80s with all the health issues ageing can bring. A prepaid funeral plan doesn't require extensive health checks or come with an age limit – it's available to anyone in Australia!
Also, funeral insurance premiums typically increase with age, only a third of premiums ever being paid out. That means when you need it most, you probably won't be able to afford it. You can read more in our article What you need to know about funeral insurance.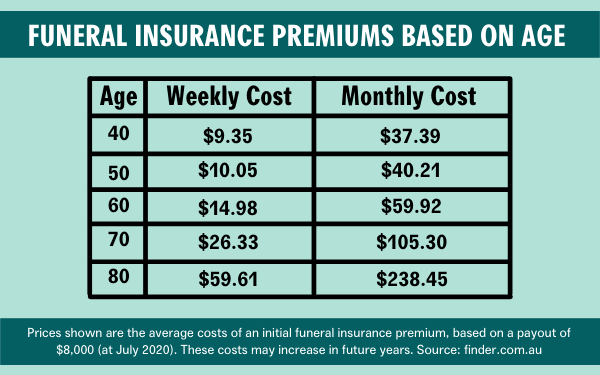 6. Exempt from assets test
A funeral is an unavoidable expense. When you choose to prepay for your funeral, you are taking care of the cost without affecting your pension or retirement income. The amount you pay will not be considered part of your assets. You can read more about the asset test here.
7. You can take your time choosing a quality service
Unfortunately, many funeral homes have business models that are designed to take advantage of grieving families. Planning your funeral while you still can, will give you time to research funeral homes in-depth and do due diligence on those that end up on your shortlist.
Best of all – you can avoid a funeral home altogether and prepay your funeral with Bare. 
Final thoughts on prepaid funerals
With all these benefits in mind, what are you waiting for? Prepay your funeral today and go back to spending your money on living, not dying!
Prepaying should be a simple and affordable aspect of your end-of-life planning, just like writing a will and organising your estate.
To get a quote for a prepaid cremation, visit the Bare Cremation website or call us on 1800 202 901.