PROBATE & ESTATE ADMINISTRATION, MADE SIMPLE.
After the death of a loved one, one of the things an executor needs to do is arrange for a grant of probate.  It can be complex, but our expert lawyers can guide you though it. 
WHAT IS PROBATE & ESTATE ADMINISTRATION?
Estate administration is the process of managing and distributing a person's assets, and paying any relevant debts after they have died.  Depending on whether the deceased person had a valid Will, either a grant of probate or letters of administration are generally needed to complete the estate administration process.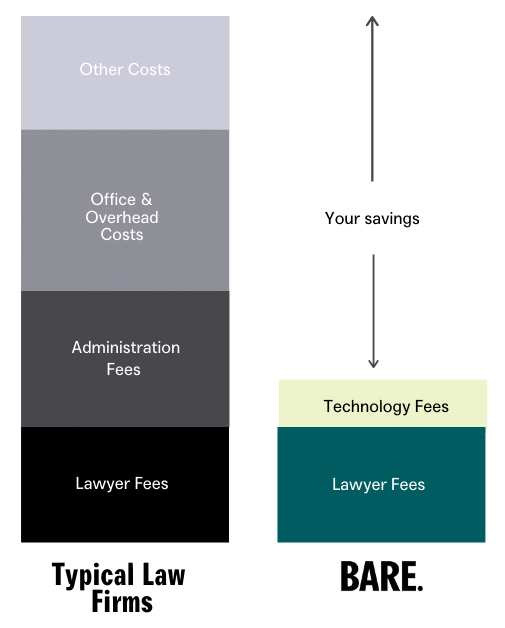 OUR BUSINESS MODEL LETS US BE MUCH MORE AFFORDABLE.
At Bare, we don't have offices, we don't have receptionists and we use smart technology to replace manual processes.  This means we can deliver the highest quality legal service – at the lowest possible price.  
WE OFFER THREE ESTATE ADMINISTRATION PACKAGES, TAILORED TO YOUR NEEDS.
Whether you just need support preparing the documents, and you're happy to take it from there, or you would like us to manage the complete estate administration process for you – we're to help. 
Yajaira Appeldorff
Yajaira (Yaya) is a senior Wills & Estates expert with 5 years experience.
Emma McConkey
A former aged care lawyer and end-of-life planning expert.
Our team of Wills & Estates lawyers are here to support you in creating or updating your will, getting your estate plan in place, applying for probate – or simply answering any questions you have about a complicated topic. 
some resources that might help...
GUIDE TO ESTATE ADMINISTRATION
A complete guide to the estate administration process, including all the important steps that must be followed to correctly distribute an estate.
WRITING YOUR PERSONAL WILL
Read our Complete Guide to Writing Your Will for a step-by-step guide to ensuring your estate is divided how you want it to be.
We explain what happens at a cremation, including how families can be sure they receive the right ashes. Common questions about cremations answered.
How does cremation work?: We answer the common questions and explain everything you wanted to know but were afraid to ask.
Your loved one has just passed away. You are probably feeling quite lost or don't know what to do. Here is a simple guide to help you through the first steps.